Tropical Storm Champi
Tropical storm (Saffir–Simpson scale)

Tropical Storm Champi

Formed
April 16
Dissipated
April 16
Highest winds
1-minute sustained:


45 mph (75 km/h)



Lowest pressure
1001 hPa (mbar); 29.56 inHg
Fatalities
None
Damage
None
Areas affected
None
Part of the 2020 Pacific typhoon season
Tropical Storm Champi was a short-lived, weak storm that did not affect any land mass.
Meteorological history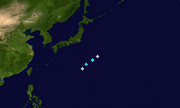 A weak low pressure area formed in the Philippine Sea. It had tropical-storm winds as it strengthened. On April 16, JMA started issuing advisories for Tropical Storm Champi. 6 hours later, JTWC did the same thing. The storm peaked at that time. Another 6 hours later, Champi encountered 60 knots of wind shear and strong dry air. Champi loss convection and thunderstorm activity rapidly, and both JMA and JTWC issued their last advisory.
Impact
Because the storm did not come near land, it didn't cause any damage, there fact, the name "Champi" wasn't retired.
Ad blocker interference detected!
Wikia is a free-to-use site that makes money from advertising. We have a modified experience for viewers using ad blockers

Wikia is not accessible if you've made further modifications. Remove the custom ad blocker rule(s) and the page will load as expected.