Tropical Storm Bettie
Tropical storm (SSHS)
Formed
June 22, 2007
Dissipated
June 25, 2007
Highest winds
70 mph (110 km/h)
(1-min sustained)
Lowest pressure
985 mb (hPa; 29.09 inHg)
Damages
$40 million (2007 USD)
Fatalities
2
Areas affected
Mexico
Part of the
2007 Pacific hurricane season
Tropical Storm Bettie was a strong tropical storm that caused minimal damage in Mexico. Originally moving northwest, Tropical Depression Two-E strengthened into Tropical Storm Bettie on June 22. The storm turned to the east the next day and the National Hurricane Center (NHC) issued a tropical storm warning for most of the western Mexico coastline. Operationally, Bettie was a hurricane, however, it was downgraded in post-season analysis.
Meteorological history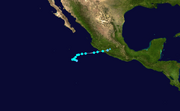 A tropical wave moved off the coastline of Africa on June 14 and then became organized enough to be mentioned in the NHC's Tropical Weather Outlook on June 15. However, on June 18, it made landfall on Venezuela. After it reentered the ocean on June 20, a burst of convection led to the NHC upgrading it with a 90% chance of formation. On June 22, a circulation developed and was designated Two-E. Six hours later, it was upgraded to a tropical storm and was named Bettie. Due to weird things going on in the upper atmosphere, Bettie turned to the east which prompted the NHC to issue tropical storm warnings for southern Baja California and the west coast of Mexico as the storm had a wind diametre of 1200 miles. After moving to the east, Bettie gained forward speed. On June 25, Bettie made landfall with winds near 35 mph. It became a remnant low twelve hours after landfall and dissipated six hours later due to a large amount of dry air. Part of the remnants of Bettie survived the high terrain of Mexico and went on to develop Hurricane Chantal in the Gulf of Mexico.
Impact
Over 200,000 people were evacuated from their homes as Bettie approached, with the official forecast showing it making landfall with winds near 65 mph. However, Bettie significantly weakened before making landfall. Flooding killed 2 people and cost $40 million in damage. The clean-up operation continued for over 2 months.