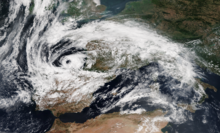 Subtropical Storm Irma was a rare subtropical storm to hit Europe in September 2017
after hurricane Harvey a unnamed subtropical depression formed near Azores island in September 2 becoming subtropical storm Irma.
moving on Spain the storm become a Extratropical Cyclone after reaching the Mediterranean sea the storm become tropical storm Irma reaching the peak of 70 mph. the the storm moves in Sardegna and become again a extratropical cyclone making hear final landfall in Campania on September 9. 6 deaths are recorded minimal damages.
After moving on Balearic Island,Sardegna and Campania the storm spawned a record tornado outbreak:
over 60 tornadoes and waterspouts are confirmed the. A EF1 Tornado make minimal damages in Spain.