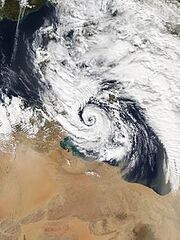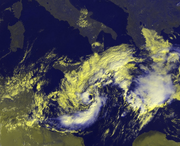 Medicane Katrina was a strong medicane (Category 3 Hurricane) and gusts reached 120 mph (186 km/h) 
Katrina formed on November 2 and dissipated on November 10
A tropical wave north of Libya went into the Mediterranean sea quickly intensified into Medistorm Katrina. On November 5, the storm reached it's peak intensity, making it's first landfall in Sicily. It weakened to a weak Medistorm but after passing through the warm waters of the south Mediterranean, the storm restrenghened to a Category 1 medicane and soon after making it's final landfall in Sicily.  
56 deaths and 14 Million Euros in damage were confirmed.
58 EF0 Tornadoes , 21 EF1 Tornadoes, 9 EF2 Tornadoes, 3 EF3 Tornadoes and an EF4 Tornado and over 195 Waterspouts were confirmed. Most tornadoes were spotted when the storm made it's first landfall in Campania.