---
"A tragedy never to be forgotten."
---
Hurricane Shary
Category 6 major hurricane (SSHWS/NWS)

Shary at peak intensity.

Formed
August 3
Dissipated
September 4
Highest winds
1-minute sustained:


230 mph (370 km/h)



Lowest pressure
862 hPa (mbar); 25.45 inHg
Fatalities
100,000
Damage
$340 trillion (USD)
Areas affected
Cape Verde, Leeward Islands, South America, Central America, Mexico, Yucatan, Florida, Bermuda, Newfoundland, Greenland, Iceland, Europe
Part of the 2100 Atlantic hurricane season and 2100 Pacific hurricane season
Hurricane Shary was the most catastrophic hurricane of all time. Causing winds over 200 mph and causing an estimated 340 trillion jackpots in damage. It was so bad that the mothers and the fathers were scrambling for their childern! Oh yeah, and Shary picked them up, and threw them to China. Wow Shary, you're just so cruel, aren't you?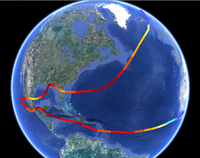 The start of a storm
Shary began as a tropical wave south of the Cape-Verde islands moving north. The wave formed into a Tropical Depression and rapidly intensified into Tropical Storm Shary on that same day. Shary then intensified into a hurricane and rapidly gained strength. Shary on August 24, had its peak winds up to 230 mph making it a Category 6 hurricane. Shary made its first landfall in the Yucatan as a category 6 monster and caused a storm surge of 53 feet. Shary then hit Veracruz and crossed into the Pacific Ocean as a category 5 storm. Shary then looped into the Gulf as a category 1 and rapidly gained strength back to a category 6 before striking New Orleans. Shary weakened a bit and made its 4th landfall at Florida as a category 4 hurricane and crossed Florida. Shary then strengthened into a category 6 for a third time over open waters and dissipated on September 4.
Damages from Shary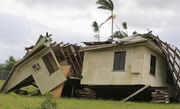 Most of Shary's damage was from the Yucatan and Mexico. Louisiana was badly damaged and Florida was horrible after Shary's path of destruction.