Hurricane Joyce
Category 4 major hurricane (SSHS)


Hurricane Joyce over the Bahamas on September 24

---

Formed
September 19, 2018
Dissipated
September 29, 2018
Highest winds
155 mph
(1-minute sustained)
Lowest pressure
927 mbar
Damages
$24 billion (2018 USD)
Fatalities
63 total
Areas affected
Bahamas, Florida, Southeastern United States
Part of the
2018 Atlantic hurricane season
Hurricane Joyce
was the costliest hurricane since Hurricane Andrew in 1992 to strike Florida. Joyce was the tenth named storm, sixth hurricane, and second major hurricane of the 2018 Atlantic hurricane season.
Meteorological History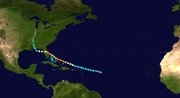 On September 14, the NHC began monitoring a tropical wave moving off the coast of West Africa. The system initially struggled to develop. On September 19, the system was named Tropical Depression Eleven. Eleven got upgraded to Tropical Storm Joyce on September 20. Joyce remained a tropical storm for two days, slowly intensifying during this span. Due to low wind shear and warm seas, Joyce began to rapidly intensify on September 22 as it approached the Bahamas. At 5pm on September 22, Joyce was upgraded to a Category 1 hurricane. Intensification occurred all day on September 23, as Joyce intensified from a high-end category 1 hurricane to a low-end category 4 hurricane by the end of the day. Joyce briefly weakened to a category 3 hurricane on September 24 as it passed over the Bahamas. Early on September 26, Joyce made landfall near Daytona Beach, Florida, as a Category 4 hurricane with winds of 140 mph. Joyce caused winds of over 100 mph throughout the state. Joyce moved over Florida and entered the northeastern Gulf of Mexico as a minimal hurricane. Joyce then made its second landfall in Alabama on September 28. Joyce became extratropical on September 29, and dissipated later that day.
Impact
Joyce caused a total of 63 deaths and approximately $24 billion in damage between the Lesser Antilles, Bahama, and the USA. Most of the deaths occurred in the Bahamas. 11 of the deaths were in the USA. Because of its impact, the name Joyce was retired and replaced with June for the 2024 Atlantic hurricane season.