Hurricane Ingrid-Yutu-Donna-Juliette (Kurt)
Category 6 hurricane (SSHWS/NWS)

Ingrid at her peak intensity.

Formed
August 4, 2013
Dissipated
October 1, 2013
Highest winds
1-minute sustained:


220 mph (355 km/h)



Fatalities
3,597
Damage
$1 quadrillion (2013 USD) (Worldwide record high)
Areas affected
South Africa, Brazil, Lesser Antilles, the United States, Canada, Europe, the Middle East, India, Pakistan, Sri Lanka, Southeastern Asia, Japan, China, Australia, Hawaii, and Alaska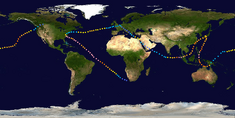 Hurricane (Typhoon) Ingrid-Yutu-Donna-Juliette was a storm formed off the coast of South Africa, and then she made landfalls along the United States East Coast, the United Kingdom, the continental European Union, China, Japan, the Phillipnes, Australia, and Hawaii. Because Ingrid also traveled over the European windstorm area (similar to Gabrielle, Humberto, Pablo and Rebekah), the cyclone earned the name Kurt during her time over that region. Ingrid caused $1 trillion dollars of damage (2013 USD) and killed nearly 4,000 people altogether worldwide. Thus, the name Ingrid was retired from List V of the Atlantic hurricane naming lists and was replaced with Ivy for the 2019 season. However, the name Ivy was retired after the 2019 season due to the damage she caused to Brazil and the Lesser Antilles, and she was replaced with Imogen for the 2025 season.