Hurricane Idol Summer 2018 (XIII)
For the thirteenth time, Hypothetical Hurricanes Wiki launched it's Hurricane Idol contest!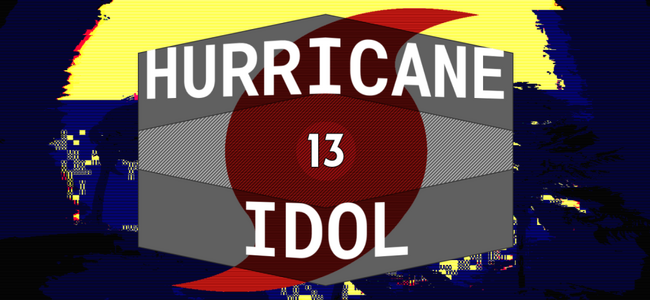 List of Hurricane Idol seasons
Hurricane Idol seasons
Season 1
The first season, hosted by STO12 during late winter/spring 2013.
Season 2
Hosted by Steve820 in spring/early summer 2014.
Season 3
Hosted by Andrew444 during mid-summer 2014.
Season 4
Hosted by Steve820 during late summer/autumn 2014.
Season 5
Hosted by Not David Brown during late autumn/winter 2014-2015.
Season 6
Hosted by Hypercane (HypercaneTeen back then) during late winter/early spring 2015.
Season 7
Hosted by Bumblebee the transformer and PuffleXTREME during late spring/early summer 2015.
Season 8
Hosted by CycloneRyne94 and Emmaelise401 from November 4, 2015 to January 28, 2016.
Season 9
Hosted by Bobnekaro and StrawberryMaster from March 28, 2016 to May 23, 2016.
Season 10
Hosted by StrawberryMaster and Hypercane from February 25, 2017 to April 6, 2017.
Season 11
Hosted by AkioTheOne and Money Hurricane from August 5, 2017 to September 30, 2017.
Season 12
Hosted by Money Hurricane and StrawberryMaster from April 15, 2018 to May 31, 2018.
Season 13
Hosted by Farm River and HurricaneBrick from July 7, 2018 to September 13, 2018.
How does Hurricane Idol work?
In Hurricane Idol, names that have or will be used to name hurricanes are put into a competition based on what the judges and the other users of Hypothetical Hurricanes Wiki decide (since Season 9, however, names that are not use to name hurricanes, such as Tanya, Steenee and Sawo, are being used). Once the competition is complete, the last name that stands out will be crowned the winner of the competition and the most popular hurricane name of the year. If you have not already done so, you can submit your names on this blog post.
Blocked users will have their names disqualified, but will be able to participate in future seasons if the user is unblocked. Users must compete in one account only. Users who try to participate in Hurricane Idol with alts or sockpuppets will get their names disqualified, or even removed from the season if the user is a judge/co-host/host.
The Panel of Judges
Farm River - THE HOST
Farm River is an active user since November 2016, aged 14 years old. Current senior administrator, he's been a participant in Season 11, and a supervisor and substitute judge on Season 12. Now, he's very excited to host the new and improved season!
---
Brick - THE CO-HOST
Brick has been an HHW user since August of 2016, and a long time administrator of the wiki! Current senior admin, he has participated in several hurricane idols, and was a judge in Season 12 (which he won with the name Ophelia!), and is very excited to be Co-Host this season!
---
Cooper - THE HEAD JUDGE
Cooper7579,better known as Cooper, is one of the admins of Hypothetical Hurricanes Wiki. This is his first time as a judge (and as a head judge) in Hurricane Idol, and he hopes to be a fair and honest judge. He is very excited to be here and to help choose the best names!
---
Strawberry - THE JUDGE
StrawberryMaster has been a HHW user since 2015, being bureaucrat since 2016. He has participated in many Hurricane Idol seasons, and is excited to be a judge in this season!
---
Money Hurricane - THE JUDGE
This is Money Hurricane's fourth appearance in Hurricane Idol, this time as a judge. He was the host in the previous season, and is happy to be returning for the 13th edition of this annual competition, which has been running since 2013. He hopes everyone enjoys this competition just as much as all the others that came before, and of course, as I always say, best of luck to everyone! Will you be the champion this time?
---
Akio - THE JUDGE
Akio has been an active contributor and staff member since late summer 2016, and has also been interested in Tropical Cyclones since November 2012. Having participated in Seasons 10 and 12 and hosting Season 11, Akio is honored to be a judge this season. May the best name win!
---
Roy - THE JUDGE
Roy joined the wiki in February 2018, and is currently the rollback of the wiki since July 2018. He participated in his first Hurricane Idol, Hurricane Idol Season 12. This is his first time as a Hurricane Idol judge, and is excited to be judging for this season and choosing the best of the best!
---
Harvey - THE JUDGE
Harvey joined the wiki in October 2017, and he has recently become a chat moderator in September 2018. This is his first time as a judge for HI and he is excited to be a judge for this season!
---
Feel free to add your info if you are accepted as judge.
The Top 100 Names!

Josie (ThePhoneExpert)
Olivia (ThePhoneExpert)
Jenny (ThePhoneExpert)
The Top 76 Names!
THE TOP 76 NAMES ANNOUNCED
Olivia (ThePhoneExpert)
Jenny (ThePhoneExpert)
The Top 52 Names!
THE TOP 52 NAMES ANNOUNCED
Olivia (ThePhoneExpert)
Jenny (ThePhoneExpert)
The Top 36 Names!
THE TOP 36 NAMES ANNOUNCED
The Top 28 Names!
THE TOP 28 NAMES ANNOUNCED
Eliminated users: Prism55Writes and ThePhoneExpert. Thank you for participating.
The Top 20 Names!
THE TOP 20 NAMES ANNOUNCED
The Top 12 Names!
THE TOP 12 NAMES ANNOUNCED
The Top 8 Names!
THE TOP 8 NAMES ANNOUNCED
The Top 5 Names!
THE TOP 5 NAMES ANNOUNCED
The Top 2 Names!
THE TOP 2 NAMES ANNOUNCED
Final
HURRICANE IDOL SEASON 13 FINAL
THE WINNER OF HURRICANE IDOL IS...
IRIS
THE RUNNER UP OF THIS COMPETITION IS...
CHRIS
Message from the Host
Message from the Host
I hope everyone had a great time in this season. Thanks for those who participated! Next host will be Roy25, for Season 14, in March 2019. -- Farm River