Hurricane Fernand
Category 5 hurricane
Formed
August 24, 2013
Dissipated
September 5, 2013
Highest winds
165 mph
(1-min sustained)
Lowest pressure
919 mb
Damages
$29.7 billion (2013 USD)
Fatalities
595 direct, 104 indirect
Areas affected
Lesser Antilles, Great Abaco Island, Florida, Eastern Seaboard, Ohio Valley, Ontario
Part of the
2013 Atlantic hurricane season
Hurricane Fernand was the costliest hurricane ever to impact the Lesser Antilles and the second-costliest hurricane ever to make landfall in the United States, as well as the deadliest Atlantic hurricane since Hurricane Stan of 2005.
Meteorological history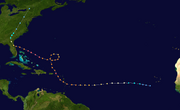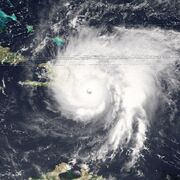 Preparations
Lesser Antilles
Florida
Impact
Fatalities by country

| | | |
| --- | --- | --- |
| Country | Deaths | Missing |
| Barbados | 2 | ??? |
| St. Lucia | 5 | ??? |
| Martinque | 124 | ??? |
| Dominica | 66 | 4 |
| Guadeloupe | 38 | 2 |
| Virgin Islands | 106 | ??? |
| The Bahamas | 1 | ??? |
| United States | 253 | 34 |
| Total | 595 | 40 |
With a total death toll of 699, Hurricane Fernand was the deadliest Atlantic hurricane since Hurricane Stan of 1972, and the deadliest United States hurricane since Hurricane Katrina of 2005. The storm was also the second costliest in the nation's history, amounting to $29.7 billion dollars (2013 USD).
Lesser Antilles
Barbados
Hurricane Fernand passed to the north of Barbados but still caused strong winds of up to 100 mph at one point. A 15 ft storm surge inundated much of the island and eroding much of the shoreline. Most inland structures were damaged from either the storm surge or flying debris. Due to the path of the hurricane, the leeward side of the hurricane, where most of Barbados' population lived, were mostly spared to moderate to strong gusts. Two people were killed in Saint Andrew Parish after a mudslide took out much of the community of Bruce Vale. An estimated $5.8 million in damages on the island were contributed to Hurricane Fernand.
St. Lucia
The unusually low of deaths and damages that occured on St. Lucia despite Fernand's prximity are largely contributed to the stern precautions that were undertaken before the storm. Strong winds toppled many trees inland and Fernand's strong storm surge eroded much of Epouge Bay. Lapins Island, a small island located about three-fourths of a mile southeast of Epouge Bay was destroyed. A peak gust that was measured to 160 mph tore much of the roof off the Sandals Grande St. Lucian Resort on the west side of the island. Damage on St. Lucia totaled to about $120 million (2013 USD).
Martinque
Hurricane Fernand made two separate landfalls on the island of Martinque as a category 4 hurricane. Strong winds, including a recorded 165 mph wind gust reported at Aimé Césaire Int'l Aiport. Heavy rain, strong winds, and a large storm surge inundated many of the shore-side Martinque cities. More than 100 small craft and boats in Le Marin reported heavy damage. Numerous power lines were torn down, leaving the entire island at one point without power. In Fort-de-France one of the government buildings collapsed after being heavily damaged. Further inland numerous mudslides destroyed communities. Hurricane Fernand became one of the deadliest hurricanes to effect Martinque after killing 124, mostly due to mudslides and caused an estimated $850 million (2013 USD) on the island alone.
Dominica
Guadeloupe
Puerto Rico and US Virgin Islands
United States
Florida
Further inland