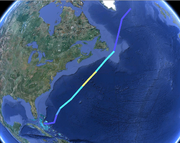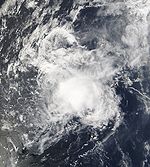 Hurricane Faye was a weak hurricane that affected Bermuda and Newfoundland. It was the 6th named storm and 7th depression of the record-breaking 2100 Atlantic hurricane season.
Meteorological history
On June 12, a cold front extended from Mexico to the Central Atlantic, as a component near the Bahamas was moving eastward and getting better organized. The NHC monitored the area, as environmental conditions were favorable for development. It then turned north-northeastward as it continued to become better organized. Early on June 15, it became organized enough to become a depression, north of the Bahamas.
It then strengthened into Tropical Storm Faye later that day as it turned more northeast. It was the earliest 6th named storm ever recorded, beating the previous record that was set during 2085 when the 6th storm formed on July 2. Faye passed Bermuda late on June 16 while moving rapidly to the northeast at a speed of 35 mph. There, it brought cloudiness and sprinkles to the island. Faye was quickly strengthening, and all forecasts said it would become a minimal hurricane. It then strengthened into a C1 hurricane on June 17, peaking with winds of 80 mph. Cooler waters started to weaken the storm, and it became post-tropical on June 18 while bringing heavy rain and gusty winds to Newfoundland. Its remnants continued northwestward and were absorbed on May 7. Over all, Faye didn't cause much damage throughout its life because it mainly stayed in open waters. Bermuda didn't receive any damage, and Newfoundland had only minimal damage from the storm.
Preparations and impact
As Faye was going to bring some rain to Bermuda, a tropical storm watch was issued for the island. But the watch was removed when Faye went a little further to the west of the island than expected. So Bermuda only got a few sprinkles from Faye.
In Newfoundland, Faye caused heavy rain and gusty winds that caused some traffic and airport delays. Only minimal damage happened in Newfoundland, with most of the damage being from trees falling on cars or houses.
Due to Faye's lack of damage, it was not retired and remains on the list for 2106.