Hurricane Crissie
Category 3 hurricane (SSHS)
Formed
August 27
Dissipated
August 30
Highest winds
120 km/h (195 kmh)
(1-min sustained)
Lowest pressure
947 mb (hPa; 27.96 inHg)
Damages
None
Fatalities
None
Areas affected
Hawaii, Alaska
Part of the
2007 Pacific hurricane season
Hurricane Crissie was the third named storm and first hurricane of the 2007 Pacific hurricane season. Forming from an Intertropical Convergence Zone (ITCZ) disturbance, Crissie went on to become a Category 3 hurricane on August 28. Strengthening wind shear and cooler sea surface temperatures (SST) meant that Crissie weakened back to a tropical storm the next day. The storm rapidly weakened as it made landfall on Hawaii. As it became extratropical, it turned to the west-northwest and then to the northwest. It moved a lot quicker by August 31, with forward speeds nearing 39 mph. At the same time, ex-Crissie turned to the north towards Alaska.
Meteorological history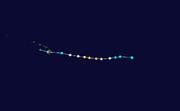 An area of thunderstorms moved out of the ITCZ on August 26, and became a tropical depression the next day. It strengthened slightly a few hours later, becoming a tropical storm and being named Crissie. It strengthened rapidly and became a Category 1 hurricane early on August 28. Favorable conditions led to Crissie strengthening into a Category 3 hurricane only twelve hours later. However, wind shear increased to 30 kts and SSTs decreased to 25 °C. Crissie weakened to a Category 1 hurricane on August 29 before weakening into a tropical storm later that day. On August 30, Crissie made landfall on Hawaii with winds near 50 mph. It rapidly transitioned into an extratropical cyclone six hours later. Extratropical cyclone Crissie then turned to the north on August 31 and moved slightly faster with forward speeds near 39 mph. It then affected Alaska and brought record rainfall to places.
Impact
Hawaii
As it made landfall, Crissie produced very heavy rain, which led to flooding in many places. Honolulu received 293 mm of rain in 24 hours, while Hilo received 287 mm of rain. However, Pearl Harbor received 438 mm of rainfall within 24 hours, making Crissie 7th wettest tropical cyclone to affect Hawaii.
Alaska
As Extratropical cyclone Crissie moved north of 40°N, the Alaska Hurricane Center (AHC) began issuing warnings on the system. A hurricane-force wind warning was issued for the eastern Aleutians and Southcentral Alaska. As Crissie made landfall, it brought over 90 mm of rain to the southern part of the state. Strong winds were an issue too, with 1-min sustained winds reaching 110 mph, equivalent to a Category 2 hurricane. As the system moved into the Denali region, it rapidly dissipated.