Hurricane Brent was a very destructive hurricane. It cost around 256 lives and millions of USD in damages. It made 4 landfalls.
Meterological History
A tropical wave moved onto the west coast of Mexico. It moved off the extreme southern coast of Texas a few days later. It spawned a Tropical Depression on August 2. in 6 hours, it became a Tropical Storm and it was named Brent. 2 days later, it became a Category 1 Hurricane. It strengthened into a Category 3 Hurricane before moving onshore in Tampa, Florida.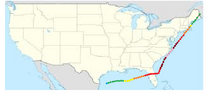 Brent abruptly turned toward the northeast. It strengthened into a Category 5 Hurricane right before making landfall in North Carolina on August 18. After it moved offshore, it weakened into a Category 4 Hurricane. It made landfall in Rhode Island as a Category 2 Hurricane. It made landfall in Maine as a Tropical Storm, and transitioned into an Extratropical Cyclone in southern Canada. Post-Tropical Cyclone Brent was tracked all the way to Nome, Alaska, before it became a disorganized area of low pressure.
Watches and Warnings
On August 4, a Hurricane Warning was issued for Tampa. On August 7, the first ever Hurricane Emergency was issued for Outer Banks, North Carolina. That means that a Category 4 or 5 Hurricane is expected in the next 3 days. A Hurricane Warning was issued for Boston, Massachusetts to the Connecticut-Rhode Island border on August 10.
Retirement
The name "Brent" was retired after this storm was over. The name was replaced with Benjamin.