Hurricane Arlene
Category 5 major hurricane (SSHWS/NWS)
Formed
January 1
Dissipated
January 18
Highest winds
1-minute sustained:


175 mph (280 km/h)



Lowest pressure
890 mbar (hPa); 26.28 inHg
Fatalities
7,500
Damage
$98.6 billion (2461 USD)
Areas affected
United Kingdom, United States East Coast, Spain and Italy
Part of the 2461 Atlantic hurricane season

Hurricane Arlene was a very powerful and rare January Hurricane, reaching an intensity never before achieved in January in the Atlantic, 175 mph and a pressure of 890 mbars. Arlene made a rare landfall in the UK with winds of nearly 150 mph. A very rare occurrence, Arlene made another landfall in Italy as a Category-1 and died in Russia.
Meteorological history
Arlene was a very rare storm,nit first formed off of Africa from the remnants of a tropical cyclone in the north Indian ocean, it rapidly organized and was called 'Tropical Storm Arlene' with winds set at 40 mph. As it moved into an unclimatologically favorable area for strengthening it strengthened rapidly to Category-2 status on January 6th, after it Strengthened to Category-4 on January 8th, it did an eye-wall replacement cycle and weakened to Category-1, with winds of 75 mph. on January 10th, it exploded in size and intensity, it strengthened from Category-2 to Category-5 in only 6 hours, going from 105 mph to 160 mph- With a Pressure drop from 970 mbars to 903 mbars- 67 mbars. It further intensified to 175 mph and a pressure of 890 mbars.
Soon it weakened to a Category-3 before strengthening to A Cstegory-4 again, from 120 mph to 155 mph.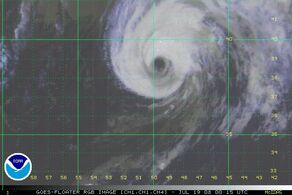 Soon on January 13th, it made landfall In the UK with winds of 150 mph. A very rare occurance. On January 15th, Arlene strengthened from 75 mph to 90 mph and made landfall in Italy.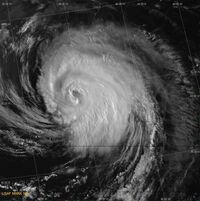 Eventually it disapated near Moscow, Russia.