Bred was the first storm to be formed and was also the first cyclone storm of the season and the damage was very strong in pakistan and iran
Meteorological History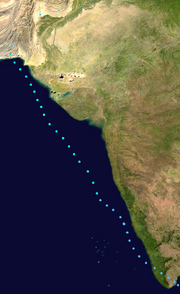 The cyclone warning services in India (IMD) there was a tropical depression BOB 01 which evolved into deep depression, but incredibly BOB 01 across India and began to evolve again, when BOB 01 has evolved into a cyclonic storm and was renamed Bred according to the list of names.

Created struck Pakistan, Iran and cities like Gurdim and Chabahar, 64 died and 423 were injured, and damage last $ 1 billion for the loss was $ 2 billion
Preparations and Impact
India
In India it was not terrifying because it formed very close to India and neu gave time to evolve but the most impressive was that this storm crossed India and continued to evolve
Pakistan
In Pakistan it was terrible because it was hit as a cyclonic storm and many cities were hit and shelters were taken by the wind from the cyclonic storm Bred
Chabahar City
Chabahar is a city that was the second city to be hit with greater damage and deaths from the cyclonic storm Bred, many shelters went wrong that the storm's winds carried with ease
Gurdim
Gurdim is not a city but the deaths of the animals counted as if it were death of population, many trees fell to approximately 32 Million dead animals in Gurdim
Intensity
Depression
Bred begins his journey but the intensity was weak and harmless
Deep Depression
Shortly after Bred crosses India Bred begins to evolve into Deep Depression and the intensity increases and can kill about six people
Cyclonic Storm
At that time Bred arrives in his last category but the intensity increases that can give a 356 Million or in the case of Iran and Pakistan the damage can be of 2 to 3 Billion and can kill up to 300 people
---
If you liked my project leave your comment what you found
Ad blocker interference detected!
Wikia is a free-to-use site that makes money from advertising. We have a modified experience for viewers using ad blockers

Wikia is not accessible if you've made further modifications. Remove the custom ad blocker rule(s) and the page will load as expected.