Severe Tropical Cyclone Tam/TamTam
Category 5 severe tropical cyclone (Aus scale)
Category 5 (Saffir–Simpson scale)

Cyclone Tam making landfall in Queensland on January 8

Formed
28 December 2101
Dissipated
12 January 2102
(Extratropical after 10 January)
Highest winds
10-minute sustained:

230 km/h (145 mph)


1-minute sustained:


180 mph (285 km/h)


Gusts:

305 km/h (190 mph)

Lowest pressure
912 hPa (mbar); 26.93 inHg
Fatalities
243 total
Damage
$12.56 billion (2102 USD)
Areas affected
Queensland
Part of the 2101–02 Australian region cyclone season
Cyclone Tam or TamTam was considered the strongest cyclone in the history of Australia, leaving 243 dead and 5,000 injured.
The damage was $12.56 billion, causing Australia to seek help from other countries
The cyclone left memories for many Queenslanders.
Much of Queensland was destroyed by the cyclone
Meteorological history
A low pressure gains strength and turns into a tropical depression in the Coral Sea, later BoM begins to monitor and discovers that the depression was heading towards Queensland (West), one day passed and the system gains strength, until he had seen a tropical storm and was already close to Australian waters, BoM renames Tam.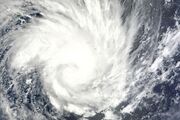 Later, Tam manages to gain more force and turns into a category 1 cyclone, the BoM thought that the cyclone would reach Queensland in category 4 or category 5 in the Australian scale. Another day passed and Tam only gained momentum, BoM was already warning Queensland, BoM later told Queenslanders that the cyclone had reached category 5 on the Saffir-Simpson scale. Several days passed until Tam arrives at category 5, many inhabitants were forced to evacuate but had some that refused, the time was passing until Tam makes landfall in Queensland. Many people died and were injured, the damages were more than $10 billion, many people still have memories about this terrible cyclone.
Impact and aftermath
While Tam was still in development, BoM started to alert Queensland to warn that the cyclone would hit, many people were already worried and decided to evacuate even though the cyclone was still in category 2, on 06 the BoM of another alert for Queensland saying that the cyclone's eye would pass near Cairns.
When Tam made landfall, the city of Cairns and Port Douglas was destroyed after the passage of Tam, mainly the city of Port Douglas that, besides being completely destroyed, the city almost went bankrupt. Already in other cities like Innisfail, the damages were means, but in some points they were strong. Australia had to pay $ 12.56 Billion to rebuild the cities destroyed by the cyclone.
Popularity on the Internet
Many people believed that the cyclone was actually two cyclones blown into one because of the power, two weeks after the cyclone, two brothers decided to call the other cyclone in Tam, forming the name TamTam,,after they created #TamTam.

A week later #TamTam became popular on social networks, several phrases and texts had #TamTam. TamTam also became a meme mainly on Facebook and Youtube.