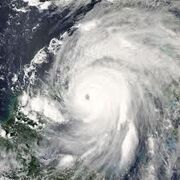 The 2063 Atlantic Hurricane Season was a Record-Shattering Season with 63 named storms, 58 becoming hurricanes, and 45 becoming Major. One of the reasons this is an unusual and record-shattering season is for category 5 hurricanes. It blew out the original record by more than 4 times, with 13 Category 5 hurricanes. The Season started off with Hurricane Ana on April 9, The first known occurence of a hurricane in April. Although it was only a Category 1, It cost the U.S over 30 Billion dollars. Then on April 23, Tropical storm Bill formed, but dissipated the next day due to wind shear over the open Atlantic. On May 20, after nearly 4 weeks of no tropical activity, a tropical depression formed in the gulf and became Tropical Storm Claudette, and Hit Mexico with and spawned into the Eastern Pacific and became Hurricane Andres, a Category 5 with no impact to land. The most Memorable storm, Delta in August,struck Texas with Category 5 Strength. The Season Ultimately caused the creation of the Category 6 the next year.
Timeline

List of Storms 
Hurricane Ana
Category 1 tropical cyclone
Duration
April 9 – April 13
Peak intensity
130 km/h (80 mph) (1-min)  968 hPa (mbar)
On April 8th, The NHC Noticed a Subtropical Wave in the Carribean. The next day the wave was classified as Subtropical Storm Ana. On April 10, Ana Strengthened into a Category 1 Hurricane. Three days Later, as the storm Traveled up the East Coast, it turned Extratropical. on April 15, the storm Dissipated in Greenland. Ana cost the east coast $32,000,000,000.

Tropical Storm Bill
Tropical storm (SSHWS)
Duration
April 23 – April 24
Peak intensity
65 km/h (40 mph) (1-min)  1006 hPa (mbar)
A week after Ana had subsided, a tropical storm, Bill, Formed inland in Nicaragua. Bill dissapated the next day.

Tropical Storm Claudette
Tropical storm (SSHWS)
Duration
May 20 – May 26
Peak intensity
95 km/h (60 mph) (1-min)  9 hPa (mbar)
After 4 Weeks of no Cyclonic activity, Claudette sprung out of a large system that would later spawn Hurricanes Dudley and Erika. Claudette later went to the Pacific Basin.