Seasonal forecasts
Source
Date

Named

storms

Hurricanes

Major

hurricanes

NOAA
April 1, 2046
15-18
9-12
3-6
–––––––––––––––––––––––––––––––––––––––––––––––––––––––
Actual activity
12
10
6
Season summary
Storms
TS
Agnes
C1
Bob
C3
Camille
C1
Dennis
TD
Five
C4
Elaine
C5
Fabian
C3
Gloria
C5
Hugo
C1
Inez
C5
Juan
C1
Katrina
TD
Thirteen
TS
Lenny
Timeline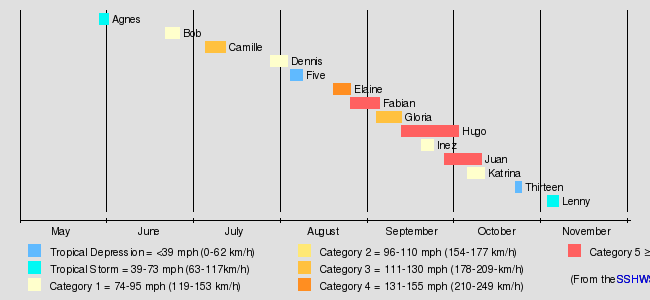 Storms
Tropical Storm Agnes
Tropical storm (SSHWS)
Duration
May 29 – June 1
Peak intensity
50 mph (85 km/h) (1-min)  1002 mbar (hPa)
Hurricane Bob
Category 1 hurricane (SSHWS)
Duration
June 21 – June 26
Peak intensity
85 mph (140 km/h) (1-min)  980 mbar (hPa)
Hurricane Camille
Category 3 hurricane (SSHWS)
Duration
July 5 – July 12
Peak intensity
115 mph (185 km/h) (1-min)  959 mbar (hPa)
Hurricane Dennis
Category 1 hurricane (SSHWS)
Duration
July 28 – August 3
Peak intensity
90 mph (150 km/h) (1-min)  972 mbar (hPa)
Tropical Depression Five
Tropical depression (SSHWS)
Duration
August 4 – August 8
Peak intensity
35 mph (55 km/h) (1-min)  1012 mbar (hPa)
Hurricane Elaine
Category 4 hurricane (SSHWS)
Duration
August 19 – August 25
Peak intensity
150 mph (240 km/h) (1-min)  935 mbar (hPa)
Hurricane Fabian
Category 5 hurricane (SSHWS)
Duration
August 25 – September 4
Peak intensity
175 mph (280 km/h) (1-min)  900 mbar (hPa)
Hurricane Gloria
Category 3 hurricane (SSHWS)
Duration
September 3 – September 12
Peak intensity
120 mph (195 km/h) (1-min)  946 mbar (hPa)
Hurricane Hugo
Category 5 hurricane (SSHWS)
Duration
September 12 – October 2
Peak intensity
205 mph (330 km/h) (1-min)  861 mbar (hPa)
Hurricane Inez
Category 1 hurricane (SSHWS)
Duration
September 19 – September 23
Peak intensity
75 mph (120 km/h) (1-min)  991 mbar (hPa)
Hurricane Juan
Category 5 hurricane (SSHWS)
Duration
September 27 – October 10
Peak intensity
185 mph (295 km/h) (1-min)  884 mbar (hPa)
Hurricane Katrina
Category 1 hurricane (SSHWS)
Duration
October 5 – October 11
Peak intensity
80 mph (130 km/h) (1-min)  986 mbar (hPa)
Tropical Depression Thirteen
Tropical depression (SSHWS)
Duration
October 22 – October 24
Peak intensity
35 mph (55 km/h) (1-min)  1005 mbar (hPa)
Tropical Storm Lenny
Tropical storm (SSHWS)
Duration
November 2 – November 6
Peak intensity
60 mph (95 km/h) (1-min)  998 mbar (hPa)
Season effects
2051 North Atlantic tropical cyclone statistics
Storm
name
Dates active
Storm category

at peak intensity

Max 1-min
wind
mph (km/h)
Min.
press.
(mbar)
Areas affected
Damage
(millions USD)
Deaths




Agnes
May 29 – June 1
Tropical storm
50 (85)
1002
Jamaica, Cuba, Yucatan and US Gulf Coast
$12 million
2
Bob
June 21 – June 26
Category 1 hurricane
85 (140)
980
Cape Verde Islands and Lesser Antilles
None
0
Camille
July 5 – July 12
Category 3 hurricane
115 (185)
955
Venezuela, Nicaragua, Honduras, Jamaica, Cuba, Bahamas and Bermuda
$132 million
7
Dennis
July 28 – August 3
Category 1 hurricane
115 (185)
955
Cape Verde Islands, Azores
Minimal
0
Five
August 4 – August 8
Tropical depression
35 (55)
1012
Venezuela, Jamaica, Cuba, Bahamas
Minimal
1
Elaine
August 19 – August 25
Category 4 hurricane
150 (240)
935
Cape Verde Islands
Minimal
0
Fabian
August 25 – September 5
Category 5 hurricane
175 (280)
900
Cape Verde Islands and Azores
Minimal
0
Gloria
September 3 – September 12
Category 3 hurricane
120 (195)
946
Cape Verde Islands
Minimal
0
Hugo
September 12 – October 2
Category 5 hurricane
205 (330)
861
Cape Verde Islands, Lesser Antilles, San Juan Island, Hispaniola (Dominican Republic), Bahamas, Southeast United States, Bermuda, UK and Ireland
$39 billion
81
Inez
September 19 – September 23
Category 1 hurricane
75 (120)
991
Jamaica, Cuba, US Gulf Coast (Florida), Eastern US and Bahamas
$788 million
14
Juan
September 27 – October 10
Category 5 hurricane
185 (295)
884
Azores
Minimal
0
Katrina
October 5 – October 11
Category 1 hurricane
80 (130)
986
Cape Verde Islands
Minimal
0
Thirteen
October 22 – October 24
Tropical depression
35 (55)
1005
Yucatan and Cuba
None
0
Lenny
November 2 – November 6
Tropical storm
60 (95)
998
Bermuda, Bahamas and US East Coast
$87 million
5
Season Aggregates
14 cyclones
May 29 – November 6
 
205 (330)
861
$118.031 billion
110
Storm names
Abraham
Bonnie
Carlos
Dorothy
Edourdo
Faith
Gaston

Hope
Indigo
Jewel
Ken
Lily
Michelle (unused)
Noel (unused)

Opal (unused)
Paul (unused)
Roxanne (unused)
Stan (unused)
Tomas (unused)
Vince (unused)
Wilma (unused)
Retirement
Due to extreme damages and loss of life, the name Hugo was retired from the Atlantic tropical cyclone naming lists in the spring of 2052. After passing through the state and also causing considerable damages and loss of life before Hugo hit, the name Inez was also retired from the annual tropical cyclone naming lists for the Atlantic basin in the spring of 2052. The names that replaced those retired were Harvey and Ingrid.
Ad blocker interference detected!
Wikia is a free-to-use site that makes money from advertising. We have a modified experience for viewers using ad blockers

Wikia is not accessible if you've made further modifications. Remove the custom ad blocker rule(s) and the page will load as expected.