2017-18 Alaskan Arctic Cyclone Season
First storm formed
September 17 - Aaron
Last storm dissipated
Season in progress
Strongest storm
Thomas - 300 mph; 789 mbar
Total polar depressions
27 (Record high)
Total polar storms
27 (Record high)
Minimal polar cyclones
19 (Record high)
Moderate polar cyclones
12 (Record high)
Severe polar cyclones
8 (Record high)
Polar vorticies
6 (Record high)
Total fatalities
Unknown
Total damage
Unknown
Timeline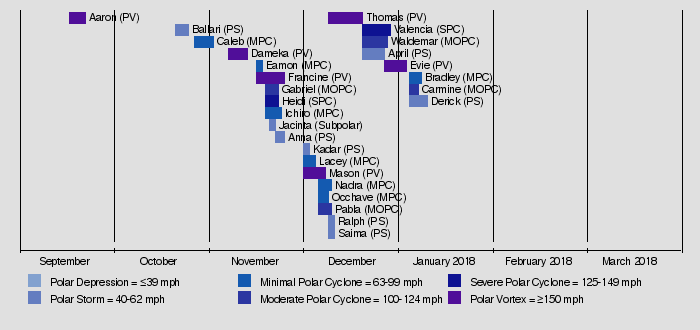 Seasonal Forecasts
Predictions of polar cyclone activity in the 2017-18 Alaskan Arctic cyclone season
Source
Date
Named
polar
storms
Minimal
Polar
cyclones
Moderate
polar
cyclones
Severe
polar
cyclones
Polar
vorticies
Average

(1979-2016)

16.4
9.7
5.1
2.2
0.9

---

HTMC
September 12, 2017
14-18
8-11
3-6
1-3
0-1
NKWC
September 12, 2017
13
5
2
1
0
BNWC
September 12, 2017
13-20
8-12
4-8
2-4
1-2
GIHC
September 12, 2017
12-19
6-11
5-8
1-3
0-2
AHHC
September 21, 2017
17
10
6
4
2
PMC
November 21, 2017
19-28
12-17
7-11
3-7
5
Actual activity

27
19
12
8
6
Polar Cyclones
Polar Vortex Aaron
Polar vortex (HTMC)
Duration
September 17 – September 27
Peak intensity
170 mph (275 km/h) (1-min)
899 mbar (hPa)
Polar Storm Ballari
Polar storm (HTMC)
Duration
October 21 – October 25
Peak intensity
60 mph (95 km/h) (1-min)
997 mbar (hPa)
Minimal Polar Cyclone Caleb
Minimal polar cyclone (HTMC)
Duration
October 27 – November 2
Peak intensity
95 mph (155 km/h) (1-min)
973 mbar (hPa)
Polar Vortex Dameka
Polar vortex (HTMC)
Duration
November 8 – November 13
Peak intensity
175 mph (280 km/h) (1-min)
894 mbar (hPa)
Minimal Polar Cyclone Eamon
Minimal polar cyclone (HTMC)
Duration
November 16 – November 18
Peak intensity
80 mph (130 km/h) (1-min)
983 mbar (hPa)
Polar Vortex Francine
Polar vortex (HTMC)
Duration
November 16 – November 25
Peak intensity
150 mph (240 km/h) (1-min)
922 mbar (hPa)
Moderate Polar Cyclone Gabriel
Moderate polar cyclone (HTMC)
Duration
November 19 – November 23
Peak intensity
115 mph (185 km/h) (1-min)
967 mbar (hPa)
Severe Polar Cyclone Heidi
Severe polar cyclone (HTMC)
Duration
November 19 – November 23
Peak intensity
145 mph (235 km/h) (1-min)
931 mbar (hPa)
Minimal Polar Cyclone Ichiro
Minimal polar cyclone (HTMC)
Duration
November 19 – November 24
Peak intensity
85 mph (120 km/h) (1-min)
966 mbar (hPa)
Subpolar Storm Jacinta
Subpolar storm (HTMC)
Duration
November 20 – November 22
Peak intensity
60 mph (95 km/h) (1-min)
993 mbar (hPa)
Polar Storm Anna
Polar storm (HTMC)
Duration
November 22 (Entered Basin) – November 25
Peak intensity
50 mph (80 km/h) (1-min)
998 mbar (hPa)
Polar Storm Kadar
Polar storm (HTMC)
Duration
December 1 – December 3
Peak intensity
50 mph (80 km/h) (1-min)
999 mbar (hPa)
Minimal Polar Cyclone Lacey
Minimal polar cyclone (HTMC)
Duration
December 1 – December 5
Peak intensity
75 mph (120 km/h) (1-min)
988 mbar (hPa)
Polar Vortex Mason
Polar vortex (HTMC)
Duration
December 1 – December 8
Peak intensity
150 mph (240 km/h) (1-min)
917 mbar (hPa)
Minimal Polar Cyclone Nadra
Minimal polar cyclone (HTMC)
Duration
December 6 – December 10
Peak intensity
70 mph (115 km/h) (1-min)
991 mbar (hPa)
Minimal Polar Cyclone Occhave
Minimal polar cyclone (HTMC)
Duration
December 6 – December 9
Peak intensity
65 mph (105 km/h) (1-min)
993 mbar (hPa)
Moderate Polar Cyclone Pabla
Moderate polar cyclone (HTMC)
Duration
December 6 – December 10
Peak intensity
110 mph (175 km/h) (1-min)
952 mbar (hPa)
Polar Storm Ralph
Polar storm (HTMC)
Duration
December 9 – December 11
Peak intensity
45 mph (70 km/h) (1-min)
1003 mbar (hPa)
Polar Storm Saima
Polar storm (HTMC)
Duration
December 9 – December 11
Peak intensity
50 mph (80 km/h) (1-min)
1001 mbar (hPa)
Polar Vortex Thomas
Polar vortex (HTMC)
Duration
December 9 – December 20
(Exited basin)
Peak intensity
300 mph (485 km/h) (1-min)
789 mbar (hPa)
Severe Polar Cyclone Valencia
Severe polar cyclone (HTMC)
Duration
December 20 – present
Peak intensity
140 mph (225 km/h) (1-min)
934 mbar (hPa)
Moderate Polar Cyclone Waldemar
Moderate polar cyclone (HTMC)
Duration
December 20 – December 28
(Exited basin)
Peak intensity
105 mph (170 km/h) (1-min)
963 mbar (hPa)
Polar Storm April
Polar storm (HTMC)
Duration
December 20 – December 27
Peak intensity
60 mph (95 km/h) (1-min)
990 mbar (hPa)
Polar Vortex Evie
Polar vortex (HTMC)
Duration
December 27 (Entered basin) – January 3
Peak intensity
200 mph (320 km/h) (1-min)
861 mbar (hPa)
Minimal Polar Cyclone Bradley
Minimal Polar Cyclone (HTMC)
Duration
January 4 – January 8
Peak intensity
70 mph (115 km/h) (1-min)
986 mbar (hPa)
Moderate Polar Cyclone Carmine
Moderate polar cyclone (HTMC)
Duration
January 4 – January 7
Peak intensity
105 mph (170 km/h) (1-min)
967 mbar (hPa)
Polar Storm Derick
Polar storm (HTMC)
Duration
January 4 – January 10
Peak intensity
50 mph (80 km/h) (1-min)
998 mbar (hPa)
Storm Names
Aaron
Ballari
Caleb
Dameka
Eamon
Francine
Gabriel

Heidi
Ichiro
Jacinta
Kadar
Lacey
Mason
Nadra

Occhave
Pabla
Ralph
Saima
Thomas
Valencia
Waldemar
After exhausting the primary list, the auxillary list began to be used this season. In rare cases where this list would get exhausted the Greek Alphabet will follow.
April
Bradley
Carmine
Derick
Echo (unused)
Fabricio (unused)
Graycen (unused)

Herman (unused)
Isadora (unused)
Jacob (unused)
Krista (unused)
Lloyd (unused)
Marissa (unused)
Nathaniel (unused)

Oaklyn (unused)
Payton (unused)
Rahima (unused)
Steven (unused)
Teagan (unused)
Vander (unused)
Wynette (unused)
Ad blocker interference detected!
Wikia is a free-to-use site that makes money from advertising. We have a modified experience for viewers using ad blockers

Wikia is not accessible if you've made further modifications. Remove the custom ad blocker rule(s) and the page will load as expected.